The Miller/Offenhauser Historical Society
The Harry A. Miller Club Vintage Indy Car Exhibition, 2001
The Harry A. Miller Club Vintage Indy Car Exhibition was held July 7-8th at the Wisconsin State Fairgrounds in West Allis, Wisc. The Milwaukee Mile track is purported to be the oldest continuously operating race track in North America, operating as early as 1907.
Both Saturday and Sunday were beautiful, clear days and there was plenty of track action. Virtually all the cars in attendance made it onto the track and thrilled the onlookers with their sounds. Read about it in Vintage Motorsports' Nov-Dec edition, written by yours truly.
The Club has done a great job of preserving a wonderfully cordial and open atmosphere for all attendees. At what other event can you stand in pit row and watch and listen to the best historical race cars from around the world and then go and chat with the owners, drivers, and restorers at leisure?

Cars on the attendance list included:
1933 Hudson Martz Spl # 29 Bauman
1959 Watson roadster replica Babineau
1927 Bugatti, Type 35B Brunkhorst
1931 Alfa Romeo 6C 1750s/c Brunkhorst
1914 Mercedes GP CH Motor Cars
1919 Ballot CH Motor Cars
1911 Marmon Model 32 Special Chicago Museum of Science & Industry
1927 Miller (Perfect Circle) Davis
1931 Brandfon Duesenberg # 66 Davis
1935 Miller-Ford # 23 Davis
1953 Kurtis 4000/Offy Dittman
1956 Watson roadster Dittman
270 Offy Hahn
1912 Mercer Raceabout Model 35 Lederer
1951 Blue Crown Spark Plug Special Lyons
1963 Watson roadster Mann
1934 Sparks-Weirick Miller # 33 Mecum
1951-3 KK3000 Schmidt Special Mueller
1963 Elder Championship roadster Revennaugh
1961 Chenoweth/Chevy roadster Schleppi
1952 Kurtis Kraft Smith
1933 Ford Schwab
1938 Adams big car Truchan
1947 Indy car champ Truchan
1914 Mercer Uihlein
1925 Miller FD Uihlein
1931 Bowes/Miller Uihlein
1938 Thorne/Sparks "Big Six." Uihlein
1948 Clancy 6-wheeler Watson

Four Ballots were built for the 1919 Indy. It was discovered at the Miller exhibition that this exact car has an enormously important connection to Harry Miller and all that he designed. Read the Nov-Dec issue of Vintage Motorsport for the full details about this wonderful and remarkable car and its Miller connection.
The Miller 91 (Perfect Circle) is the famous Frank Lockhart car that set the 164.84mph (171mph one way) International Class F record at Muroc Dry Lake on April 11, 1927. He qualified for the pole at Indy that year and his car went on to many other victories, both for him and posthumously, for others.
The Bowes Seal Fast engine is the 1931 Indy 500 winner. The engine is a Miller 122 bored out to 151 cu in.
The blower is from the Shorty Cantlon car and was originally on the last Miller 91 front-drive built.
The Sparks Big Six was designed for the 1937 Indy by Goossen for Art Sparks. It was a free-formula year and the engine was built for pure power. It was a 336 cu.in. with the first application of a supercharger using a spiral volute diffuser. The car ran faster than any car before it, driven by close to 500bhp at 5000rpm. A blower drive failure ended its first Indy: it was entered many times again, under various engine formulas.
The Sparks-Thorne Little Six was designed by Stevenson for Art Sparks who was now working for Joe Thorne. Two cars were built for the 1938 Indy. The engines were supercharged 183 cu.in. and put out over 400bhp at 6600rpm. Neither car finished in 1938 but set qualifying records in 1939 and finished well thereafter, finally winning Indy in 1946. These photos of the car were taken at the 2001 Monterey Historic Races.

Photos
(click on any photo to enlarge to full-size)
| | | | |
| --- | --- | --- | --- |
| Ballot 1919 Indy | Ballot 1919 Indy | Ballot 1919 Indy | Ballot 1919 Indy |
| Ballot - the engine Miller copied | Ballot - the engine Miller copied | Miller 183 (Bowes Seal Fast) | Miller 91 front-drive blower on Offy |
| Miller 91 (Perfect Circle) | Miller 91 (Perfect Circle) | Miller 91 (Perfect Circle) | Sparks Big Six |
| Sparks-Thorne Little Six | Sparks-Thorne Little Six | Sparks_Thorne Little Six | |
Sounds
These audio tracks were recorded on a MiniDisc recorder. They are in stereo and are saved at the widest possible frequency response (20Hz - 16kHz) available within RealPlayer (hence the large file size). RealPlayer (rm) was chosen over Windows advanced streaming format (asf) because the accuracy of the sound is noticeably better. The track sounds should all run clearly from right to left: sometimes streaming audio mixes this up during playback and you hear left to right or just mono. Replaying the sound again after the first playback usually gets it to play correctly. To really hear how the cars sounded, hook up a pair of full-range, high quality home speakers or high quality headphones rather than just using typical computer speakers.
The recording location was directly across from the grandstands, facing the track. The cars accelerate out of the turn off to the right, come down the grandstand straight from right to left, and then decelerate for the next turn. You can occasionally hear voices and other cars in the pit row that was right behind the recording location. The recordings for the cockpit audio tracks were taken while riding in the mechanic's seat.

Ballot 1919 Indy (307k - 30 sec) - idling in the pits

A new Miller T-shirt was designed and sold at the exhibition.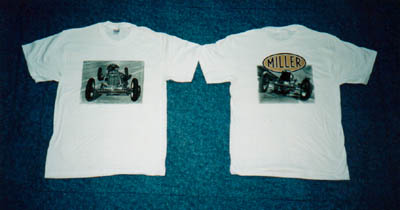 Front Back
If you're interested in one, please write to milleroffy@aol.com.