The Miller/Offenhauser Historical Society
Video Gallery

These videos were recorded on a Casio EXP-505 in MPEG-4 AVI format. The source file is DVD quality: 640x480, 30fps, with digital stereo audio. In order to accomodate various Internet speeds, the source files were compressed into Windows Media Video files, using Microsoft Movie Maker. The finished videos are available in two sizes: Small - 320x240, 358k bit rate; Large - 640x480, variable bit rate.

The recording location was directly across from the Milwaukee Mile grandstands, facing the track. The cars accelerate out of the turn off to the right, come down the grandstand straight from right to left, and then decelerate for the next turn. You can occasionally hear voices and other cars in the pit row that was right behind the recording location. To really hear how the cars sounded, connect a pair of full-range high quality speakers or headphones rather than tiny computer speakers.

Home
The cars
Miller history
Upcoming race events
Feature story with photos
Photo and sound gallery
Recommended books
Technical drawings
Information wanted
News & updates
Racing links
For sale
About us
Copyright © 2014 Harold Peters.

The recently restored ex-Durant Miller 122; winner at Pebble Beach 2006. 1.3 minute video of starting the car, engine revs, walk-around.
Small 320x240, 3.5MB Large 640x480, 24.6MB



The same Miller 122 on the track. 0.5 minute video, multiple passes, one with alongside the 1923 Boyle Miller 122.
Small 320x240, 1.3MB Large 640x480, 8.8MB



The Lockhart-Miller 91on the track. 0.5 minute video, multiple passes.
Small 320x240, 1.2MB Large 640x480, 10.3MB



The Boyle-Valve Miller 91 on the track. 0.5 minute video, multiple passes.
Small 320x240, 0.9MB Large 640x480, 7.3MB



The Derby-Miller 91 front-drive driving through the pits. 0.5 minute video.
Small 320x240, 1.0MB Large 640x480, 5.6MB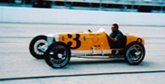 The Pete de Paolo Miller 91 front-drive on the track. 0.8 minute video, track and pits.
Small 320x240, 2.0MB Large 640x480, 12.7MB


The Miller 122 front-drive on the track. 0.5 minute video, multiple passes.
Small 320x240, 1.3MB Large 640x480, 8.4MB


The Miller Golden Sub. 1.2 minute video of pull starting the car; car exiting the pits; on the track.
Small 320x240, 2.9MB Large 640x480, 22MB


The Miller TNT going through the pits; then a pass on the track
Small 320x240, 3.6MB Large 640x480, 10MB
The Miller TNT in the pits at Laguna Seca (2009)
Small 320x240, 10MB Large 640x480, 23MB
The Miller TNT revs at Pebble Beach (2010) - 4 minutes
Small 320x240, 58MB Large 640x480, 111MB


The 1920 Miller 183 (Baby Chevrolet) in the pits and on the track.
Small 320x240, 9.3MB Large 640x480, 19MB
Small 320x240, 14MB Large 640x480, 33MB


The 1910 Kline-Duesenberg (walking beam) in the pits.
Small 320x240, 2.3MB Large 640x480, 5.7MB


Miller V16 and Bentley TT on the track.
Small 320x240, 1.9MB Large 640x480, 4.9MB


Do you have videos that could be on this page? Email them to me at: milleroffy@comcast.net